Symphony No. 5 (Amen) - Galina Ustvolskaya
Information about Symphony No. 5 by Galina Ustvolskaya, and the best recordings available on CD or for download.
For voice, oboe, trumpet, tuba, violin and percussion.
The work was written in 1989/90.
RECOMMENDED RECORDINGS
Liss (Megadisc Classics Megadisc)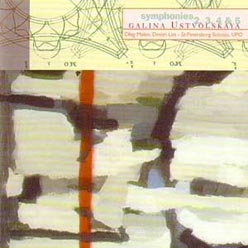 St. Petersburg Soloists, conducted by Dmitri Liss.
Megadisc Classics Megadisc
Coupled with Symphonies Nos. 2 - 4
---