Symphony No. 5 (Solo Symphony) - Libby Larsen
Information about Symphony No. 5 by Libby Larsen, and the best recordings available on CD or for download.
The work was written in 1999, and consists of four movements.
RECOMMENDED RECORDINGS
Alsop (Koch International 7520)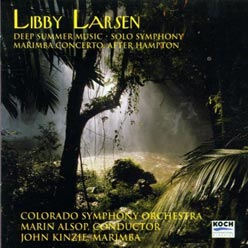 Colorado Symphony Orchestra, conducted by Marin Alsop.
Koch International 7520
---