Symphony No. 2 (For the New Millennium) - Alla Pavlova
Information about Symphony No. 2 by Alla Pavlova, and the best recordings available on CD or for download.
The work was written in 1998, and consists of four movements.
RECOMMENDED RECORDINGS
Fedoseyev (Naxos 8.557566)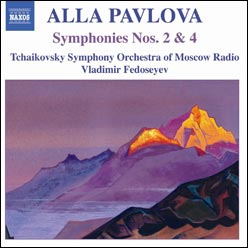 Moscow Radio Tchaikovsky Symphony Orchestra, conducted by Vladimir Fedoseyev.
Naxos 8.557566
Coupled with Symphony No. 4
---