Symphony No. 1 (Three Movements for Orchestra) - Ellen Taaffe Zwilich
Information about Symphony No. 1 by Ellen Taaffe Zwilich, and the best recordings available on CD or for download.
Winner of the Pulitzer Prize for Music.
The work was written in 1983.
RECOMMENDED RECORDINGS
Nelson (New World Records 80336)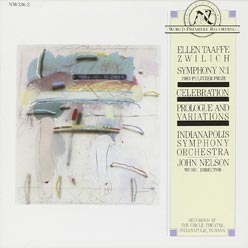 Indianapolis Symphony Orchestra, conducted by John Nelson, 1984.
New World Records 80336
---